Clickable picture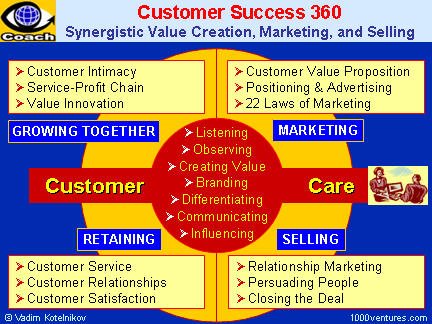 Your Business is Ruled by the Marketplace
"You don't decide what business you are in; the marketplace decides that for you...
People will only buy what they want to buy, or are afraid not to buy, at a given moment in time," write Miles Spencer and Cliff Ennico in their book "MoneyHunt". Tailoring your business plan to what the market will buy is always a better, more successful strategy than developing a new product or service without knowing precisely the customers for it and hoping that people would buy it because it's good.
Creating Customer Value
From the customer's point of view, your company exists only to create value for them, to provide them with results. In the new rapidly changing economy the nature of value is changing, involving new ways to price goods, innovation and emotion. You need to think in terms of offers, to merge products and services, and to be innovative to give customers a value-added experience.
Modern Marketing and Selling as a Team Sport
"Selling, in the old days, was largely and act of personal heroism.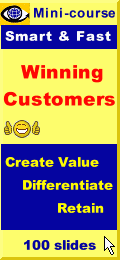 The key to successful selling was knowing the products and the customers. The effective sales rep would present his or her product or service in the best possible light, forge a bond with the buyer, and triumph over the competition," writes Michael Hammer in his book 'Agenda'.
"This approach has little to do with the way sales are made in today's real world. Today's customers don't want products; they demand solutions, and solutions don't come in a box. They must be designed, fashioned to meet the customer's specific needs. Making such sales takes a lot more than personal charisma. Today's selling is system selling, solution selling, consultative selling; it entails analyzing customer needs, designing alternative solutions, scrutinizing costs, developing and implementing systems, and more. This is not the work of a heroic individual sales rep.
Modern selling is a team sport, and a complex one at that. Winning at it takes discipline and structure. Making it up as you go along is a recipe for disaster."
Case in Point Coca Cola
Coca-Cola's national accounts program has long been noted as a leader in integrated marketing, sales, and any other group that might touch the customer. Coca Cola devotes to each national account a team that includes employees from marketing, sales, support, operations, and finance. They converge on a market, research the culture, people, and sociology, and then debrief each other. Through this process they understand their objectives and tasks better and are able to outsmart the competition.